How do you welcome back employees after having been closed due to the pandemic? While reopening phases continue, it is important to remember that things will not just go back to the way they were before the pandemic. Change will be here for a while and everyone needs to adapt. Employers must create safe workplaces that can build confidence and comfort for their team.
Here are some strategies your business can use to welcome back employees:
New Policies – Employers need to screen employees for any signs of sickness. Encourage employees to screen themselves at home, teaching them what symptoms to look for. Are your sick leave and work from home policies updated? Times are different and you may need to adapt your policies. Signage throughout the office can also help communicate these changes.
Communicate – Signage can be highly effective when trying to drive home important messages throughout the workplace like in bathrooms, hallways, cafeterias, and lobbies. Consider hanging posters about sanitizing, screening practices, sick time policies and social distancing reminders. At Pratt Visual Solutions, we have designed signage that is read to use or can be customized with your branding.
Updated Environment – While stress is high, you need to think about ways in which you can boost employee morale. Updating your environment to a space that is relaxing can leave a positive impact on your employees. We have worked with many clients to design and install graphics that bring energy to a space. From powerful images to words of wisdom, encouragement and mission statements, graphics can turn an otherwise bland office wall into a work of art and something your team will appreciate.
Resources – You might even want to add signage about your Employee Assistance Programs (EAP) to remind teammates that resources are available. Plus, reminders about contacting human resources or management to safely report things that are concerning to the employee.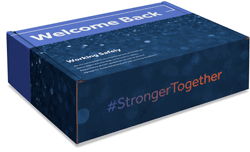 A welcome back box is another great idea that says you are happy to have your employees back, while also communicating the new changes and expectations. We are able to design and customize the box with your branding so you can include a resource sheet, hand sanitizer, a face masks, and other relevant items. Think about how you can be creative, relevant to your brand, and caring as an employer
The New Normal
We must look forward and plan carefully to protect your teammates and customers. To do this, you will need signage and office. Below are some project examples that might spark some ideas for your own use.
Contact us to discuss how Pratt Visual Solutions can assist with your re-opening communication plan. Email us at hello@pratt.com.